Some three months ago during the first rise of the Corona crisis in Romania we had a blog post about COVID-19 and the subsequent lockdown affected consumer behavior online – most prominent search patterns – and we even tried to make some predictions on how work- and shopping-habits may be impacted long term. Since then, some things changed. One of them, (not related to COVID-19) we are proud of: we got nominated as Best (small) SEO Agency at the European Search Awards 2020. If we can attend physically is still unknown, so Corona keeps things uncertain. Reason enough to revisit our last blogpost, to update the observed trends and see how our predictions evolved so far:
Our main predictions where as follows:
We will see a new wave of digitalization, which will affect both work-habits and shopping-habits (and online shopping opportunities)

Online collaboration tools (like Zoom, Gmail, Hangouts etc) become more widespread and will be adopted by industries / segments which formerly did not use them

More business will shift operations online and stay with it, at least as an option and to diversify risk (e-learning, online events and everything which can be delivered) as a wider audience discovers their advantages

As more companies try to gain market share online, respectively start shifting operations to online we will see a steady rise in the demand for digital services marketing
Consumer behavior shifted mostly short-term, especially leisure activities and demand for informational offers, but some newly formed habits could stick (e.g. having groceries delivered at home)
So lets start to revisit these, one by one.
Mobility Behavioral Trends
First of all, lockdown in Romania was lifted after 15th of May, and many business – but not all could go back to more or less »normal«. So, according to Google's mobility reports, public transport is still less frequented  (–17%) as it used to be, probably because many business still work from home – at least many of those which have the possibility. This is also reflected in 30% less traffic at workplaces.
However, data suggests that Romanians fed up with lockdown and now compensate for the long time spend home by going out as much possible: So, traffic to residential areas is mostly returning to baseline. Meanwhile, traffic to parcs, groceries and pharmacies is growing, while retail and recreation has returned nearly to the baseline (here we need to consider that not all recreation facilities are re-opened. Thus, a growth towards the baseline means an over proportional growth for the reopened facilities/locations).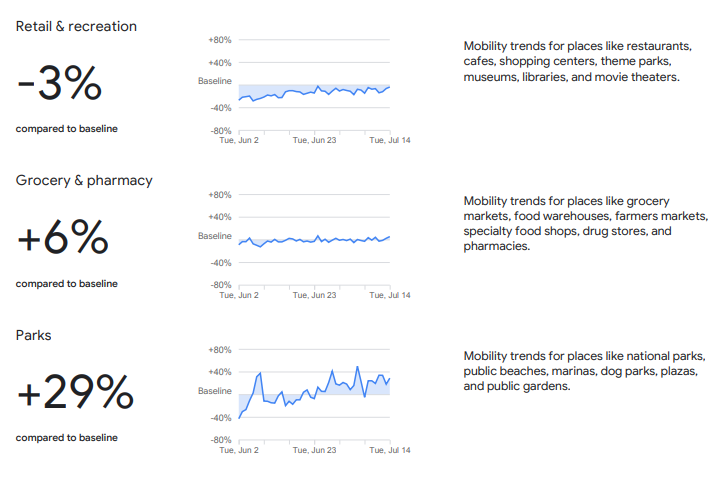 So, lets have a look at the different categories of search behavior
I. Curiosities / COVID Specific Searches
We had some curios observations, like the already iconic quest for toilet paper at the dawn of lockdown, which was also reflected in a sharp rise in Google search for toilet paper… This was obviously not there to stay and meanwhile has returned to normal, as consumer's trust in retail and delivery increased and the end of lockdown.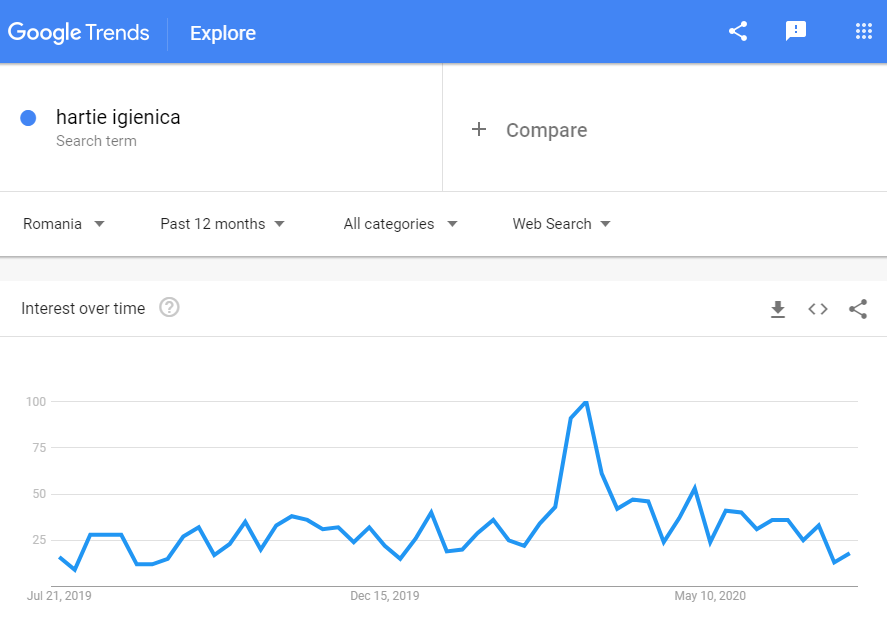 So has the search for bread (or how to make it), which pretty much returned to pre-corona levels.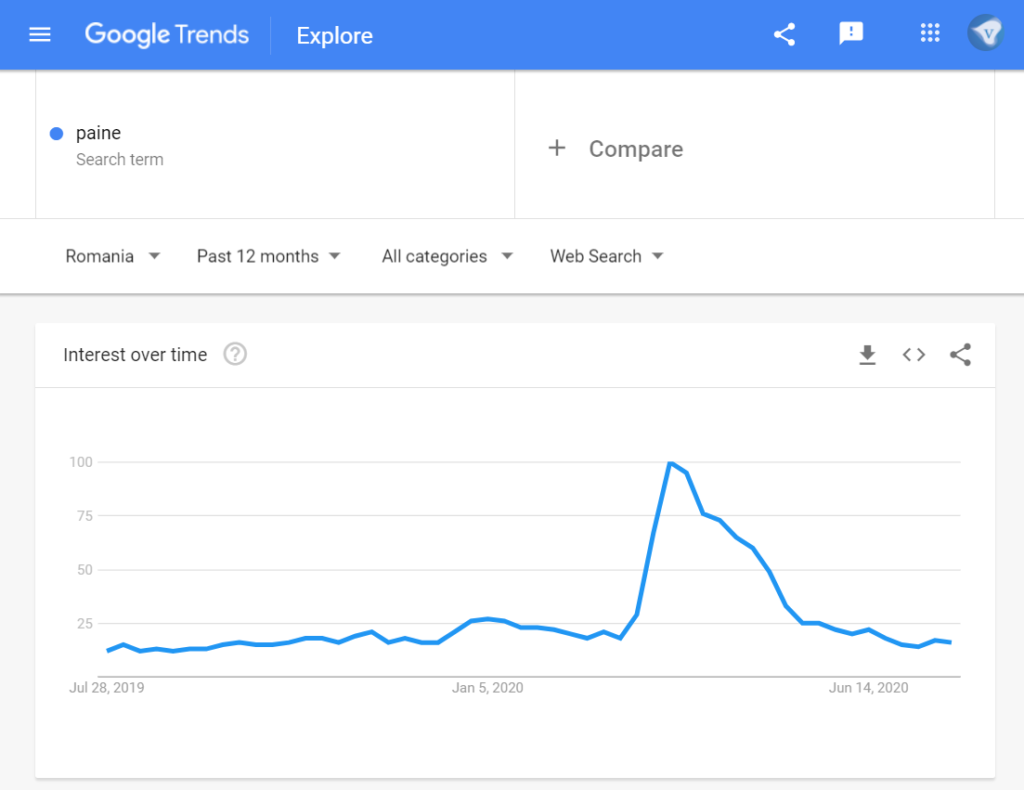 Likewise, the search for »how to cut your hair« disappeared soon after hair studios re-opened.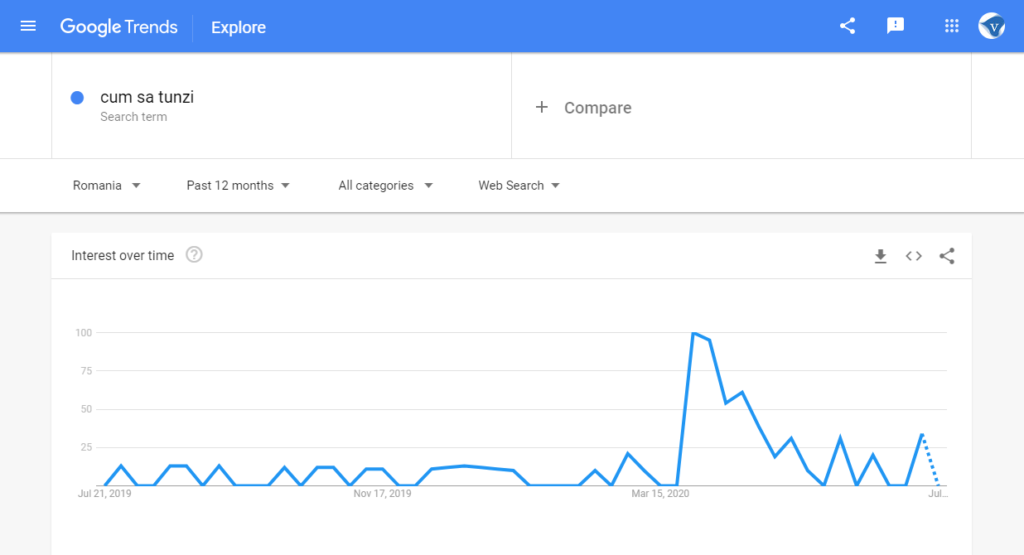 II. Leisure, Information, Entertainment
Nevertheless, even if people start to go out again and searches for (opened) restaurants return to normal, not everything as it used to be: One the one hand, the search for restaurants largely resumed, at least for the lucky owners, which have outdoor facilities (»terase«)
But the search for holidays though is at a low, unprecedented during the last five years: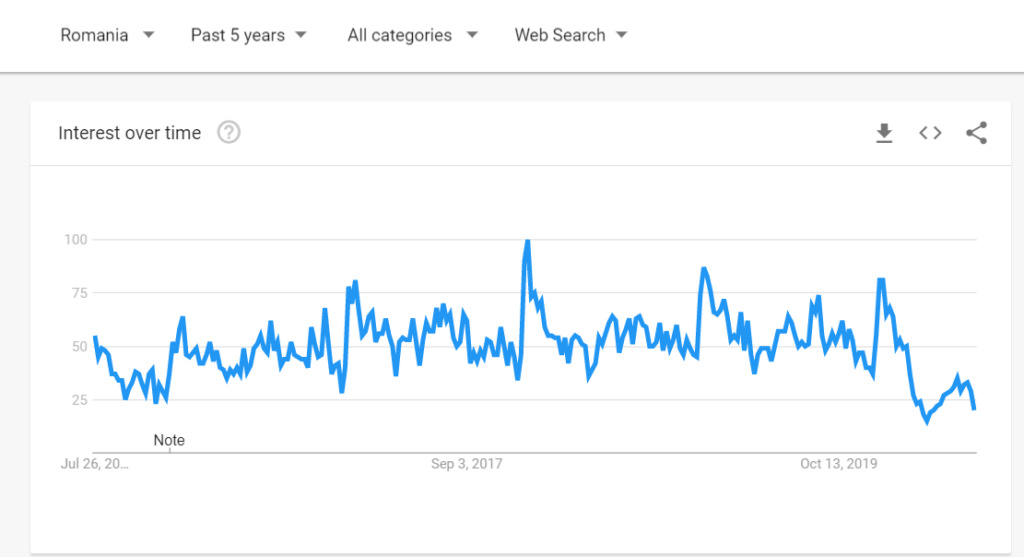 The always high demand for games had sharp spike during lockdown, which is usually observed only in winter months, when people must stay at home for seasonal reasons. Now, search for games online has returned to its typically high level.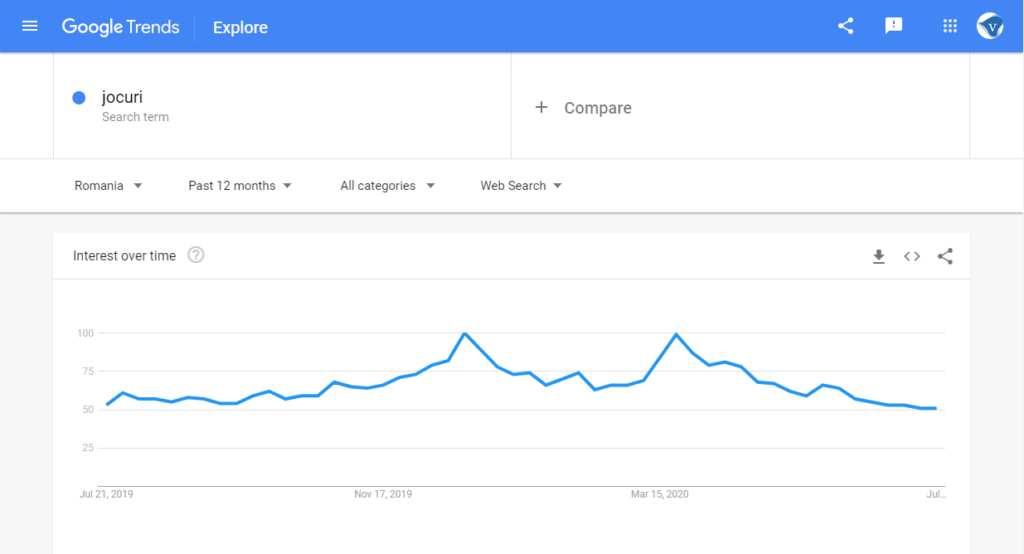 When it comes to information demand, we see that the demand for news after an unprecedented rise and request for (mostly) hard news has normalized, even though it is still on a slightly higher level than pre-corona.
III. Work-World
The work world was affected in several ways. On the one hand, we had an unprecedented rise in the usage and search for online collaboration tools.  Even if the days of the spike are over, their level remains clearly above the anterior level. Netflix in the picture below shows that business which used the opportunity, could expand market share beyond the mere moment, as new segments of consumers started to form new habits. Gmail and Zoom show how newly discovered online collaboration tools keep to stay in place beyond the moment of strict need.
The search patterns for »locuri de munca« (jobs) shows an atypical and actually sad evolution during and after Corona: During the Corona crisis the searches for jobs reached a low, which is typically observed only during the winter holidays in December. Practically large parts of the job market had been locked. After lockdown, the search for jobs has not only resumed, but has reached extremely high levels, usually only to be seen during the high season from January to February during the year. Anecdotally, the high demand for jobs is not matched by a likewise high demand for work, and some analysts assume an unemployment rate of up to 8% – which is very high for Romanian standards.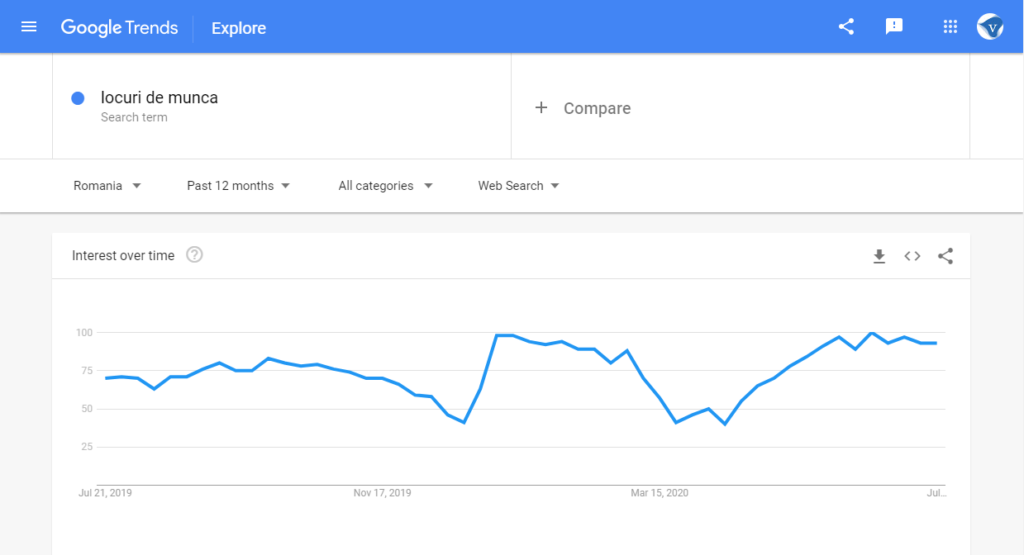 IV. Shopping Behavior
Shopping behavior has returned to normal, but with a twist. On the one hand we have seen a rise in the mobility stats to places such as groceries have slightly grown vs the baseline. It seems like Romanian's compensate for the long time at home  by enjoying shopping outside. Nevertheless, the search for delivery remains on a higher level, than during pre-corona times.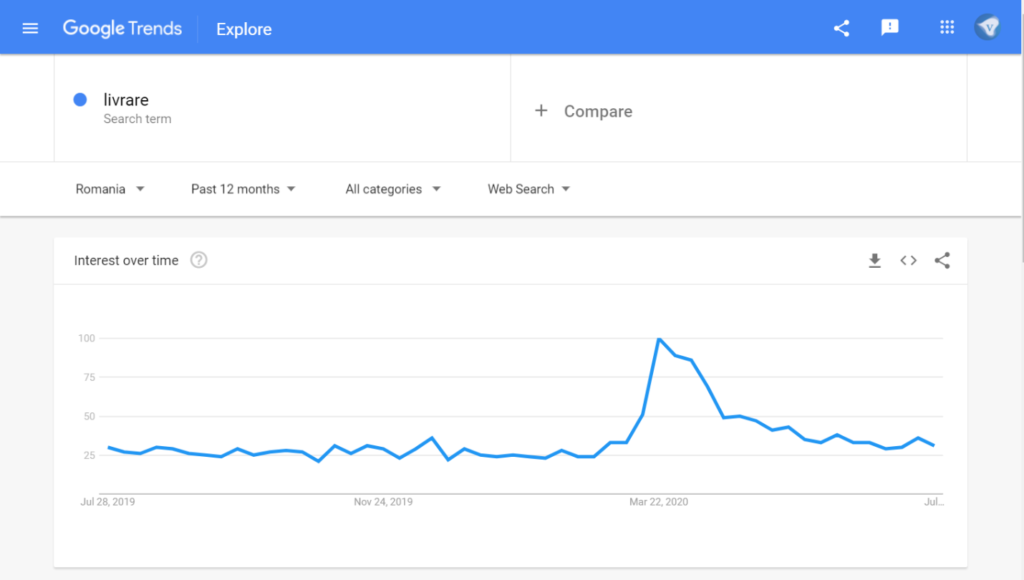 How much higher, is well captured in the graph for »order online« (»comanda online«) for the last five years.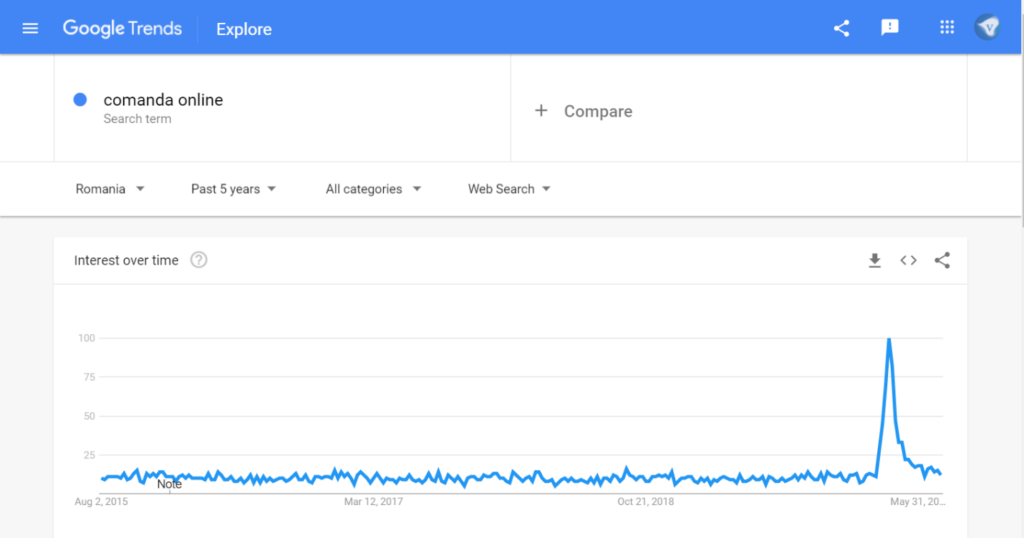 After an extreme spike in spring 2020 the search for online shopping opportunities decrease, but settles despite the end of lockdown on a well above pre-corona level.
V. Online Services and Marketing
As more business is shifting operations online, we expected the demand for online services and marketing to grow. These assumptions largely hold true when it comes to paid advertising: The search for Google Ads (formerly AdWords, here in red as comparison included) is steadily growing and sees a new high after the end of lockdown. This comprises two different movements: 1. Business who had to cut their marketing spent during Corona and business who started online advertising with the rise of corona. Some of the first category resumed their advertising activity after the end of lockdown and thus their activity added up to the activity of new advertisers. However, the advertising market as a whole suffered from Corona huge losses (Dragos Stanca estimates at least 35 mil EUR to be lost), so it is still early for proper predictions or evaluations, because we also have a tremendous negative vector from the finance world.
This is also true for SEO, which enjoyed a spike during Corona and now largely returned to pre-corona levels.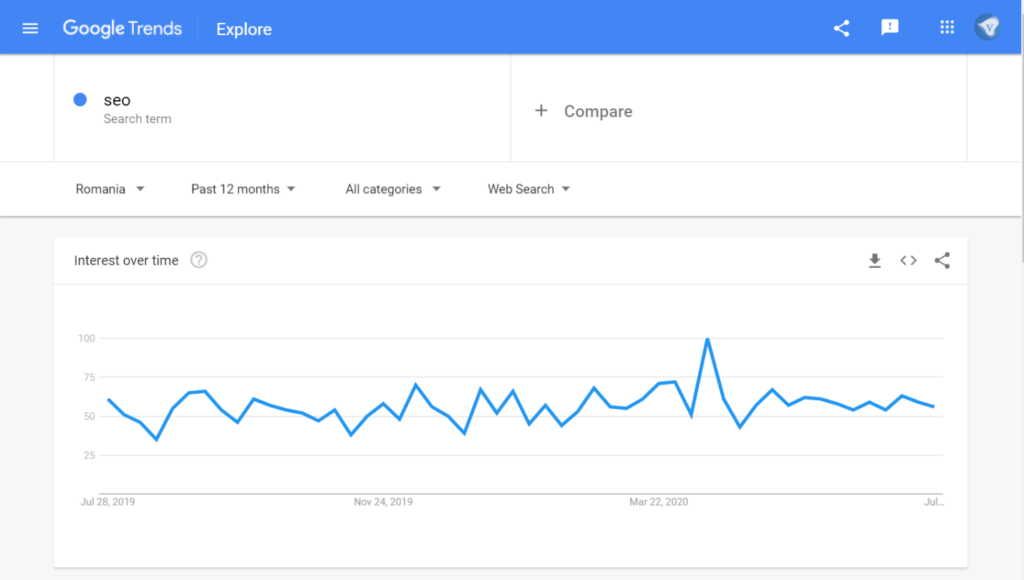 SEO is there for the long term, with results manifesting in the medium-term, at least after some months. So it is mostly a privileged for established and / or well-planned funded business.  A look into the USA though, a market with a large share of professional players shows a clearly increasing trend, for SEO this year, despite or because of the corona Crisis is hard to argue: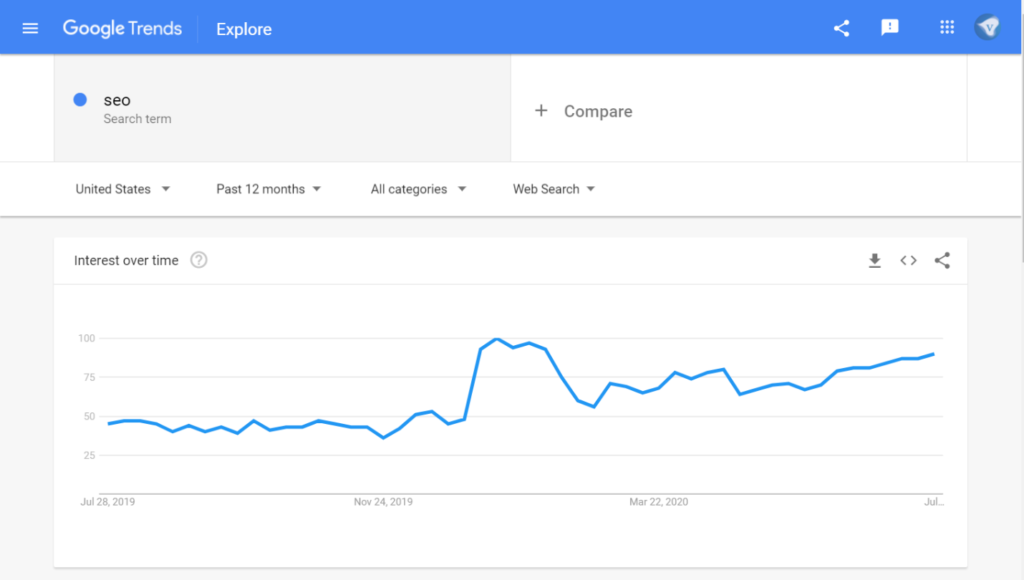 Anyways, it reflects rational behavior oriented towards the needs of future digital markets.